Liberation Day, May 2012
Text by Susie Parr
Spring has come to Guernsey.  Recent downpours have given the earth a thorough, much needed soaking. A watery sun emerges and starts to warm away the chill of the past few days. Clumps of Erigeron daisies burst from the high grey stone walls that line St Peter Port's narrow lanes. Out of town, the hedgerows are vibrant with ragged robin, bluebell, allium, dandelion, primrose and celandine. By the side of the road, the 'hedge veg' stalls display free-range eggs, punnets of early strawberries and bags of small new potatoes, still crusted with soil.
Driving through such peaceful scenes today, it is hard to imagine the strife, suffering and near-starvation experienced by islanders during the German occupation, an ordeal that lasted from June 1940 to May 1945. A visit to the German Occupation Museum tells the story through a series of exhibits, meticulously curated by Richard Heaume – a farmer born during the war – whose passion for collecting and cataloguing the things the Germans left behind led him to open the museum on a not-for-profit basis in May 1966.
As befits its military focus, the museum displays arms, engine parts and weapons, field equipment, medical instruments, uniforms and helmets. But the poignant social history of the occupation quietly takes centre stage. One vitrine displays the small, battered, blue leather suitcase belonging to Rachel Rabey, one of the many Guernsey children evacuated to mainland Britain just before the invaders arrived. Children like Rachel stayed away from their families for five years. Rachel's name is written in wobbly, inky letters across the inner lining of the case that contains her vest, knickers, and white shirt, carefully folded, together with a pair of fawn, hand-knitted socks. The small, dark haired girl stares out sadly from a black and white photo that is placed next to her blue gym slip, pullover and moth-eaten school scarf.
A visiting group of local school children is ushered through the museum by two teachers. They contemplate Rachel's suitcase and talk about what it must have been like to be a five-year-old evacuee. They drift past the displays of military hardware and come to a halt by the display of the foodstuffs that the starving islanders had to resort to, particularly in the last few months of the occupation, after Allied forces had invaded France and supplies to the island ran catastrophically low. Here you can see jars of sugar beet syrup, bramble tea, parsnip coffee, carrageen moss and potato flour. The children read how cats, dogs and rabbits were eaten. The teacher with them says: 'To this day my mother will not eat parsnips as it reminds her of the war. She used to live on parsnips and seaweed. They used acorns to make coffee you know.' The children contemplate the toys and cooking pots that resourceful islanders made out of empty tin cans and think about an island life very different from their own.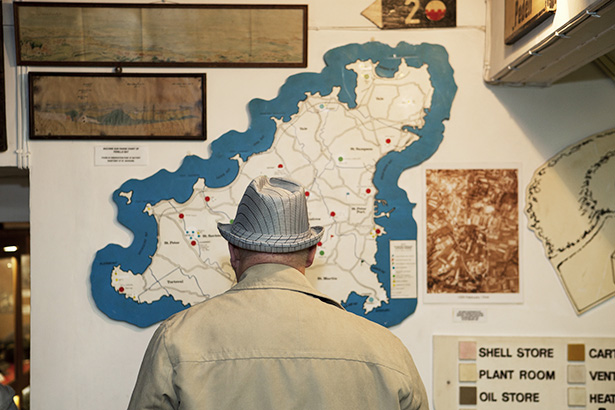 These domestic artefacts have a chilling counterpart in the displays of German dining ware: a silver coffee pot and a fine linen napkin printed with swastikas suggest the relative power and privilege of the invaders. The brutality of the occupation is conveyed in a small, understated room that details the grim lot of Guernsey Jews and the privations of the thousands of slave workers transported to build extensive fortifications and housed in appalling conditions in island work camps. And it was not just the slave workers who suffered. Throughout the museum, posters and proclamations indicate the ruthless response to any acts of resistance by islanders. Louisa Gould sheltered a Russian escapee and was sent to the gas chambers. Winifred Green was sentenced for 6 months in jail for telling the chef at the Royal Hotel: 'to hell with Hitler for a rice pudding.' Louis Berrier was charged with having released a pigeon with a message for England. The proclamation continues: 'He was therefore sentenced to death for espionage and SHOT on 2cnd August 1941.'
Many islanders were betrayed by local informers. The Germans offered rewards for any information about acts of resistance, such as marking stones and walls with the V sign. Anonymous letters from informants make disturbing reading. Written in pencil, in shaky capital letters one starts: 'G BUCKINGHAM HAS LARGE STOCKS OF STOLEN GOODS, NEW ENGINES, DIESEL, PETROL, OILS, PAINTS…' And those who were perceived to be collaborating with the enemy were ostracized. The island communities must have been riven with suspicion and mistrust.
More disturbing reading comes in the form of the Guernsey Evening Press, which continued to be published throughout the occupation and was used by the Germans as a medium of communication and control. On the 29th June 1940, the day before the occupying troops arrived, the headlines deplore the 'dreadful toll of German bombs and machine guns'. Twenty two people had died in the bombardment of St Peter Port. On Monday July 1st the front page of the Press was given over to a set of instructions from the commander of German forces in occupation which begins:
'1) All inhabitants must be indoors by 11pm and must not leave their homes before 6am.
2) We will respect the population of Guernsey but should anyone attempt to cause the least problem, serious measures will be taken and the town will be bombed.'
On both days, the front pages carried advertisements for Fison's fish fertilizer and the Home Circle Library, as if life was going on as normal when in fact everything had changed. Five long years later, the edition of the Press published on May 10th 1945 conveys a sense of the atmosphere in St Peter Port as the island was freed:
'There were indescribable scenes of intense joy and excitement. Never to be forgotten. After 5 weary years Guernsey was really free. The Tommies arrived and for the first time since June 1940 carefree and gay laughter was heard. The whole town was painted red white and blue. Church bells pealed forth their joyous tidings.'
Sixty seven years on, Guernsey continues to mark Liberation Day with processions, parades and cavalcades, church services, concerts, fairs, fireworks and special events. Public buildings, shop windows and private houses are festooned with red white and blue bunting, Union Jacks and the Guernsey flag. Pubs serve Liberation Ale and restaurants offer special Liberation Day menus. Specsavers, the multi million pound company established in Guernsey in 1984, is a primary funder of two major events: an afternoon tea dance for islanders who lived through the occupation or were evacuated or deported, and a ball in the evening that is open to all.
At the tea dance, no expense has been spared to create an atmosphere of celebration and plenty. The walls of the enormous hall at the local leisure centre are hung in red, white and blue and display huge blow ups of classic wartime posters urging 'Dig for Victory' and 'Keep Mum, she's not so Dumb'. Some 70 round tables, each seating twelve guests, fill the vast space. The tables are densely decorated with flags and flowers and laden with sandwiches, scones and Guernsey gache (a kind of fruit bread) thickly spread with yellow butter. Waitresses serve tea and coffee while the 15 piece Syd Lawrence Orchestra plays wartime big band favourites. Singers croon 'Dancing cheek to cheek' and 'You do something to me'. Images of the musicians are projected in black and white on four big screens around the hall.
Those guests who are still able to do so take to the dance floor. Everyone joins in with the sing songs. Helpers and organisers hover around the edges of the hall,  some dressed in 1940s uniforms and outfits. Dame Mary Perkins (the founder of Specsavers) wears a Union Jack shift dress, shiny with sequins. In her welcome to the tea dance guests, Dame Mary thanks everyone present who is wearing Specsaver glasses and hearing aids. Although she seems to be speaking in jest, she has a point. The place is crammed with people in their 70s, 80s and 90s. Glancing round the hall there is clear evidence that women live longer than men: at each table the men are heavily outnumbered.  But everyone is having a good time, chatting, eating and singing along with the band.
The Hangar Ball takes place in the same venue that evening. The same compere, musicians and entertainers are present but the tea, sandwiches and scones are replaced with alcohol, stew and baked potatoes. And the joint is jumping. Although tickets cost £30, the ball is a sellout- more than 800 people, old and young, arrive to enjoy the fun. While there are still a few Union Jack hats, frocks and waistcoats in evidence, most have taken great care with their dress: women wear red lipstick, hats, seamed stockings and neat army uniforms or authentic 40s evening dresses with fox fur stoles. Evacuees, air raid wardens, French resistance fighters, Tommies, sailors, spivs, red cross nurses and GIs mingle around the tables. One person appears dressed as a ration book, which makes negotiating the crowded dance floor something of a challenge. A group of young women dressed as land-girls, in dungarees and headscarves, wheel their barrow full of vegetables up to the stage to receive the prize for the best-dressed table: a meal for 11 at a local restaurant. The best dressed couple (this year a French policeman wheeling a vintage bicycle accompanied by Helga, glamorous in blonde wig and German uniform) win a trip to St Malo. The vibrant atmosphere and the effort and care that everyone has put into their outfits suggest that the Guernsey Hangar Ball must be one of the most authentic and keenly felt retro events to be staged anywhere in the British Isles.
Liberation Day, the 9th May, gets off to a damp start but soon the sky behind the rocky islets lying off St Peter Port is streaked with pale, watery blue. The day involves much ceremony and pageantry. Soldiers, veterans and a group of visiting Ghurkas march along the front, led by the Guernsey Concert Band. The troops are inspected by the Lieutenant-Governor of Guernsey and the Bailiff, both decked out in their ceremonial robes. A group of Chelsea Pensioners marches along to join the parade, clapped by the crowd. People wave flags from the yachts and cruisers berthed in the harbour. The church bells peal out, just as they did 67 years ago. Quietly watching all this – although not actually taking part -John Greenfield is the only member of the original liberating force who has been able to come to the island this year. The remaining few others are not well. John has returned to Guernsey every year since the war. He was 18 when he arrived in St Peter Port with Task Force 135 to be greeted by 'cheering, weeping, delirious islanders who gave these men of the British Army a welcome such as has never been equalled' (Guernsey Evening Press). John says that it was touch and go whether he would be able to come this year, as his own health is not so good.
Away from crowds and bustle of St Peter Port, the ladies of St Matthews in Cobo are busy serving tea, coffee and biscuits in the church hall. The parishioners decided to put on a coffee morning after Cobo's own liberation ceremony, in which the Guernsey flag is planted on the Grosse Rock, a mile off shore. Stand on Cobo's beautiful white sand beach and you can clearly see the rock with the red, white and yellow flag streaming out in the strengthening south wind. Inside the church hall, there is quite a crowd and much chatter and laughter. Each table is decorated with a Union Jack flag, set in a jam jar wrapped in red, white and blue ribbons. Around the hall, a few stalls display raffle items, hand knitted blankets and jumpers, home made cakes and strawberry tartlets, foil-wrapped chocolate teacakes, second hand jigsaw puzzles and jewelry and red white and blue woolen pom poms. A hand written sign reads: 'Celebrate: wear a pom pom.'
Ruth Duquemin is helping to run the cake stall, putting the takings into a battered metal cash box. Ruth is 92 and remembers the occupation: 'It was terrible, particularly when we ran out of food. It got a bit better when the Red Cross parcels came, but things were very hard. It was a great day when we were liberated. I walked to town with my mother and sister to see what was happening. I couldn't believe the number of Union Jack flags that appeared. People must have been hiding them away.'
Back in St Peter Port, as evening draws in and pubs and restaurants bulge with merry makers, the Queen's Diamond Jubilee and Liberation Concert gets going. Ticket holders have been encouraged to attend the last night of the Proms style event 'in party spirit with red white and blue flags, bunting, whistles and hats' and the atmosphere is thick with patriotism. At 10 pm, fireworks arc into the rain to mark the end of the day.
But away from all the razamatazz and flag waving, some quieter stories are unfolding. On May 10th Richard Heaume boards a ferry in the company of the troop of Chelsea Pensioners and the band of Gurkhas – some looking rather queasy as the boat hits rough seas – heading for the small, rocky island of Sark to mark its own liberation day. Sark's ceremony is short, understated and poignant. Lone piper Bill Jenkins plays a lament over the grave of four-year old Nanette Hamon, who died during the occupation when she stepped on a landmine.
Doris and Walter Theuerkauf, accompanied by two of their daughters, travel with Richard on the boat. Doris's father – Heinz Herdt – served as the Commandant of Sark during the occupation. Doris says her father never spoke of his wartime activities to anybody in the family, including her mother. It was only after his death in 1977 that she unearthed documents, letters and photographs and discovered that he had served on the island. She understands that Heinz was liked and respected by Sark people as he was a great horseman and, coming from farming stock himself, sympathetic to the plight and problems faced by the farmers. Intrigued to know more about this secret history, Doris first visited Guernsey in 1987 and got talking to Richard at the museum. They became friends and she has donated many items from her father's archive to Richard's collection.
Doris and her family have been back to the Channel Islands several times:  'My generation was so ashamed. Everybody was guilty. We come back to make friends and to show that Germans change. Everybody is open to us. We are no longer the enemies. It makes my life more interesting. Every year I come back I learn a little bit more.'
Travelling on the ferry with the Theuerkauf  family is 87 year old Fritz Kunz. At the age of 17, Fritz was put in charge of signaling systems on Guernsey. Today at AJs café, half way down Sark's main thoroughfare, Fritz greets an old friend – Werner Rang – who worked as a medical orderly on the island during the occupation. Post war, after Werner had served three years as a prisoner of war, he married his Sark sweetheart, Phyllis Baker, whom he met on the island in 1943 when she was suffering from tonsillitis. The couple have lived on Sark since 1949.
For Richard Heaume, his friendship with Werner and the German visitors is one step in the long process of healing and reconciliation. For years after the war, many Channel Islanders simply did not talk about what had happened. Like Doris's father, they built a wall of silence around the occupation. Everyone wanted to forget, to wipe out the fear, misery and shame of those years. But the people of Guernsey and the other islands now understand that the occupation is a hugely important part of their history:
'We've turned a full circle. Twenty years ago we wouldn't have thought of restoring the fortification sites on the islands because of the sensitivity. But now it's history. Many Germans were also liberated in 1945. Not every one was a Nazi. We have reached reconciliation with our German friends. One has to accept and move on.'
Richard's words accord with the sentiments expressed in a short, hand written note left for the islanders by the departing troops, framed and displayed in his museum:
'The Germans wish you all on Guernsey a happy future and hope to see you again under peaceful circumstances. Farewell and cheerio. May 10th, 1945'.